Bite Club (Morganville Vampires Book 10) ~ Rachel Caine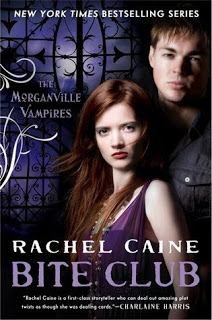 Bite Club
Paperback: 352 pages
Publisher: NAL Hardcover
Available: May 3, 2011
Genre: Young Adult
ISBN-10: 0451233182
ISBN-13: 978-0451233189

After learning that vampires populate Morganville – and surviving a number of adventures with her new night-dwelling friends – college student Claire Danvers has come to realize that for the most part, the undead just want to live their lives.
But someone else wants them to get ready to rumble.
There's a new extreme sport being broadcast over the Internet: bare- knuckle fights pitting captured vampires against one another – or, worse, against humans. Tracking the out-of-town signal leads Claire – accompanied by a loyal group of friends and frenemies – to discover that what began as an online brawl will soon threaten everyone in Morganville.
And if they want to survive, they'll have to do a lot more than fight…
When Bite Club opens, the guys are excited about the new gym opening in Morganville, Shane especially, since they're offering martial arts. It's vampire owned, with vamp and human members. Shane loves it and starts spending more and more time there. He's also getting angry – fast and mean. He's picking fights with Michael, Eve, and even Claire. The angrier he gets, the more time he spends at the gym, where Gloriana's been hanging out. It doesn't seem to matter that she's a vampire, Shane can't seem to get mad at her.
Claire has her own problems – Bishop is back, MIT is calling, and she's still keeping the secret about Shane's father from Shane. Then, she gets a phone call from a strange female telling her Shane is hot and out of Claire's league. She comments she's "watching it again" and Claire gets suspicious. After a bit of investigating, it turns out the gym is running an online human vs. vamp "fight club" where paying viewers can place bets on the outcome of the fights, and Shane is a participant.
My Thoughts: Bite Club is definitely Shane's book. We get a lot of what's going on in his head, and it's angry and confused. We see his deepest hopes and doubts and watch as they morph into something unrecognizable. The vampires in Bite Club are badder than ever, more so because they don't seem all that bad… until it's too late. Aside from Shane's issues, Claire still has a lot going on. Some old "friends" from previous books come back and surprise me, and just when I think it's all over Ms. Caine throws another twist into the plot. I get enough Myrnin-time to keep me satisfied, and, just to tease us, there is some unfinished business between Eve, Michael, and Amelie. Bite Club is an action-packed, no-punches-pulled installment in the Morganville series!
Categories: Uncategorized